The ''color'' silver were exepted in TICA as a Champion color in 2004,
this is the last color that have been excepted.
We do have several silvers in our breeding program, both spotted/rosetted and marble.
Goals for silver breeder program, is strong type (and close up to wild expression), clear coated with good contrasts

.
And good health and temperament -of course.
Let me introduce some of them and share some of my experience about them.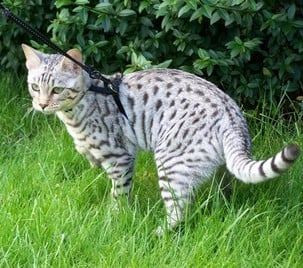 Foto over : Diablita Magnolia (F-4)


Breeding silvers:
If you're seriously planning to breed silvers, there are some things that's good to know before you start buying your first silvers parents. First: it's hard to get good silver bengals, with good silver bengals I mean with strong type, without tarnish (red markings) with good contrasts as grown up. That is because the color haven't been accepted before resently and because there have been used other breeds to get in the silver color and there is usually brown colored bengals right back in the pedigree.
Use of other breeds have caused lack of type , use of brown bengals give silvers very often tarnished coat.

Silver is a dominant color, that means that you can mix an brown bengal with an silver and get full litter of silvers or both silvers and browns. There are myths about what silvers can do to brown coloration, a lot of people thing that the brown kittens they get (if they do..) will have a very clear coat. It's not easy as that and before breeding silvers, you have to know if your silvercat is homozygot or heterozygot for silver, then you can plan breeding with brown cats. (see later on this page)


Silver genetics:
I/I = Homozygous Silver Bengal
I/i = Heterozygous Silver Bengal
i/i = Brown or snow Bengal (not affected by an Inhibitor gene)
Pairing a Homozygous Silver to a Homozygous Silver (I/I) :


100% of kittens will be Homozygous Silver (I/I)
Pairing a Homozygous Silver (I/I) to a Heterozygous Silver (I/i)

50% of kittens will be Homozygous Silver (I/I) and 50% will be Heterozygous Silver (I/i)
Pairing a Heterozygous Silver to a Heterozygous Silver (I/i)
I i
I I/I I/i
i I/i i/i
25% of kittens will be Homozygous Silver (I/I), 50% will be Heterozygous Silver (I/i) and 25% will be Non-Silver (i/i)
Pairing a Homozygous Silver (I/I) to a Non-Silver (i/i)
I I
i I/i I/i
i I/i I/i
100% of kittens will be Heterozygous Silver (I/i)
Pairing a Heterozygous Silver (I/i) to a Non-Silver (i/i)
I i
i I/i i/i
i i/i i/i
25% of kittens will be Heterozygous Silver (I/i) and 75% will be Non-Silver